BUSINESS MODEL CANVAS--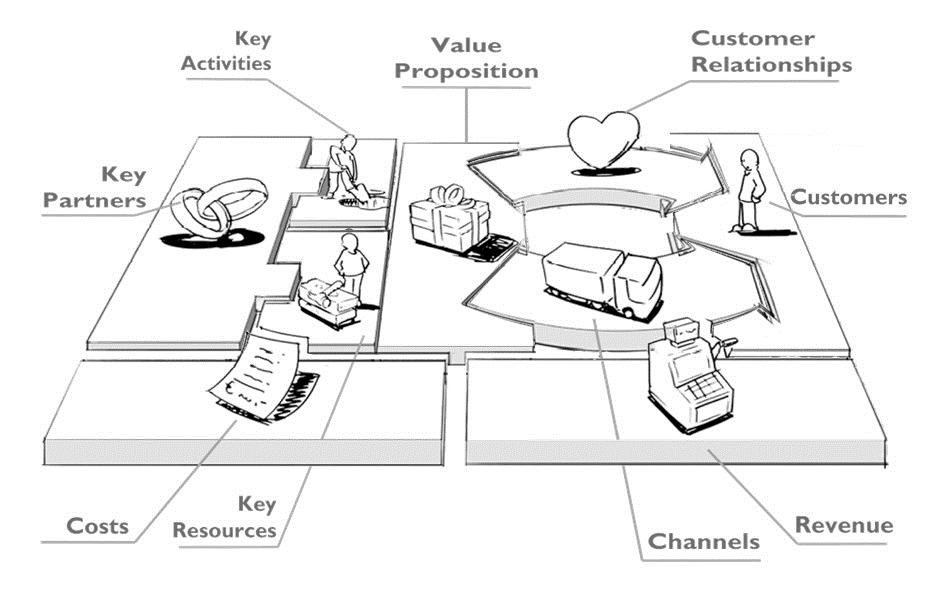 Discover Your 
Unique Value Proposition (UVP)

---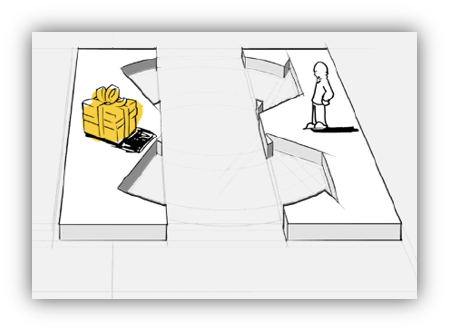 The Position Statement
The Position Statement consists of one paragraph explaining the basic values your business offers and how those values relate to your market.
Describe your market in terms of the customer -- 
                Your market must be 
                                Big enough to provide the revenues you need, but
                                Small enough that you can realistically address it.
Define your market in terms of your competition--
                Who or what do you compete against?
                Explain your offering  in terms of well-known or existing products.
Explain the major benefit for defined customer--
                How is your product not only different but better?
                Explain very specifically how your product is better for your market. 
Example:
"ABC builders is Home City's premier builder of residences for top echelon business managers.  We recognize that the executive residence is not just a shelter but a tool for success. Using the latest communication and entertainment technology, advanced design principles and construction processes, we support the interactive 24/7 lifestyle of the modern C-level manager. Entertain and relax while staying on top of your enterprise." 

The Value Statement -
The Value Statement is your one sentence elevator pitch.  It is called an elevator pitch because you must be able to deliver it in the time an elevator travels from one floor to the next.
The Value Statement sounds like this -  "ABC Builders  builds (Category) for (Target Customer), incorporating (unique processes and/or technology) which provide (Benefit)."
Examples:
"ABC Builders builds homes under $150,000 for first-time homebuyers, incorporating smart design and green products for investment sustainability."
"ABC Builders builds residences for C-level executives, incorporating the latest connectivity technology and entertainment capabilities to support the business management lifestyle."
"ABC Builders constructs seasonal residences for migratory seniors to enjoy the winter months in a more comfortable climate, focusing on minimal maintenance and ease of access."
The Unique Value Proposition
The Unique Value Proposition (UVP) is also known as your logo or "tag line".  It is a limited number of emotionally-charged words that express the very core of your businesses' reason for existing.
Here is the process for developing your UVP.  
THE WORDS - Develop a list of at least 20 words that are important to your market place.  Start by combing your positioning statement and pulling out emotionally loaded and descriptive words and adding them to the list.  Then brainstorm additional action and value words that speak to your market.  Keep working until you have at least 20 words.
Now begin combining those words in short statements.  Keep an open mind to new words that will pop up as you go through this process.
Keep at it until you find five combinations that you think may be worth keeping.  Write out each of these quarter-final UVPs and write down what you like about each. 
Spend some time re-combining the best pieces of each of the five potential UVPs into three semi-final UVPs.
Go to bed.  Leave the three alone for at least a day.  Then go back and re-read the three alternatives.  See if one UVP knocks you off your feet.  If that is the case, you are finished.  If you don't have that experience, don't worry.  Start with your 20 words again.  Pull out the ones you like, and then add more until you have a total of 20 again.
Then start the process again.
Yes, I know...it sounds like a huge requirement of time.
But remember that this statement is going to be the interface between you and your market. 
This statement points the direction in which you will take your business. 
This statement will be the benchmark against which you measure every big decision you will make regarding the growth of your company. 
Whatever time it takes, it takes.  You don't have to like it, you just have to do it.
IT IS THAT IMPORTANT.
If you want to speed up the development of your Unique Value Proposition, download the UVP Generator to help in your brainstorming process.
---
---
The Final Test
THE FINAL TEST - If you can answer yes to each of the following questions, you have your Unique Value Proposition. 
Does it differentiate? Does the UVP set you apart from the other choices in the market?

Does it reflect?  Does the UVP ring true with the character of your company?

Does it resonate?  Have you developed a UVP that hits the bull's-eye with your market?

Does it elevate?  Does the UVP hit the right emotional chords to make the reader feel better because of it?

Does it promise?  Does the UVP commit your company to something important for your client?

Does it sing?  Is the UVP easy to read and easy to remember?
CONGRATULATIONS.
---
Understand how your market values the homes you build.


Determine your process for building value into your homes and the best ways to tell your market about it.


Develop your three messages

1. The Position Statement

Develop your three messages --

2. The Value Statement

Develop your three messages --

3. The Unique Value Proposition
---
---