S.W.O.T. ANALYSIS

---
Step Two of the S.W.O.T. Analysis Process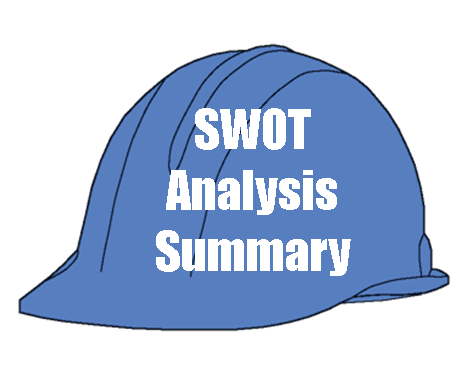 Gather the S.W.O.T. Considerations surveys and collate the information using the summary form
Designate each of the participants 1,2,3, and so on.  
Enter the rankings for each of the considerations.  For a positive response, enter the number.  For a negative response, enter the number as a negative.  The form will automatically total the value of the response.  
You should see a correlation between responses, as the participants will normally see the same Strengths and Weaknesses in the company, and will normally have the same concerns about Opportunities and Threats.  

Be aware of considerations with a big swing in values, i.e. one participant may enter a "4" and another participant may enter a "-5".  This could indicate all kinds of interesting scenarios and should be investigated further.
Categorize the top-ranking Strengths, Weaknesses, Opportunities and Threats in the areas of The Business, Marketing, The Crew, Projects, and Finances.  These will form the basis for the brainstorming session.
Also be aware of extremes away from the norm, i.e. most participants rate a certain consideration as a "Pos-1" and one participant rate the same consideration as a "Pos-5".  Make allowances in the brain-storming session for considerations such as these to be discussed.
---
---