CLIENT MANAGEMENT

---
You Must PURPOSELY Control Your Client Relationship

The relationship with your client is too important to leave to chance.
You must think through how you want the relationship to be generated (Marketing), how you want it to be nurtured (Sales), how you want it to be harvested (Production) and how you want it to be terminated (Legal).
If you have been in business for any time at all, you will have realized that, no matter how hard you work at making the client relationship run smoothly, the client-builder interface is not always friendly.  Recognizing that, it is important to be prepared for the possibility of problems.
Anticipating problems can go a long way to managing the rough spots in the client-builder relationship.  With that in mind, the following topics should help you be prepared.
Initial Client Contracts
Initial Specifications sets out the assumptions made in preparing the initial and susequent proposals for a project.
Estimating is the process by which your business begins to develop the costs of turning the Client's needs and wants and dreams into a reality.
Sample Construction Contracts are samples and discussion of the business implications of some of the contracts I have used in my business.
Client Contract Series provides samples of various agreements for the initial stages of work done for a prospective client.  Includes the:
Schematic Design Agreement
Design Development Agreement
Construction Drawing Agreement
Construction Agreement
Mold Disclaimer & Waiver
Builder Limited Warranty
---
Client Management Documents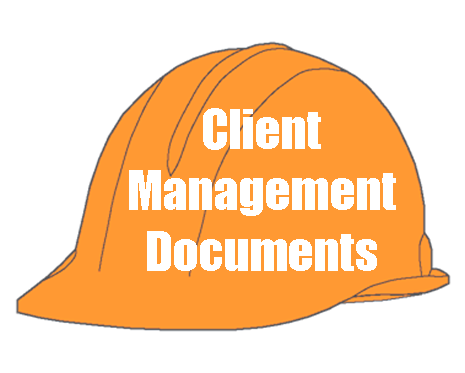 Client Management Documents are a set of some of the most important documents on this website.  The documents define the relationship with a Client in a way that will help protect your business in the event of a "client-from-hell".  Includes the:
Confirmation of Instructions
Notice of Acceptance
Draw Request
Delay Notice
Restart Notice
---
An Alternative to Creating Your Own Documents
The PDF and description of the document above provides sufficient information for you to replicate the document.

However, you may want to consider purchasing the entire Client Management package, consisting of:

a dashboard with all the important job information entered one time in one place and then distributed to all the other documents,
twenty interlinked Confirmations of Instructions,
eight Notices of Acceptance,
eight Draw Requests,
three copies of the Delay Notice, and
three copies of the Restart Notice.
More than an hour of instructions and suggestions for how to use the documents
All important information is shared between the documents, reducing input error.
The package is in Excel format, making it simple to adapt to your needs, and easy to install.
The entire package is installed into each job so all the Client Management documents you need are at your fingertips.
---