Just stopped my subscription to Co-Construct.  Too complicated, too expensive.  Going to try Asana now per your suggestion - just bought your template...very much appreciate your web site and resources.
Debra Klinger
DK Dwellings
JOB-SITE PRODUCTION

---
The Search for the
Best Project Management Tool

I have received quite a few indications lately that Project Management is a real source of concern for many of this site's readers.  And it is a subject that I have spent many hours working on in my own construction company.  Building a project is an overwhelming commitment, and skipping even a small step can have disastrous results.
I have tried many of the project management software packages available (Gantt charts, Critical Path Methods, Excel spreadsheets, MSProject, Act!, BuildLinks, Contact Business Manager, and on and on), and have come to the conclusion that most of these applications, while technically sound and intellectually interesting, are too complicated and time-intensive to be of much use to the small builder.  They just require too much maintenance to use consistently.  I had the feeling that I could either keep up the monitoring process  or see that the work got done, but there wasn't sufficient time to do both.
And if you are not consistent in the use of these applications, the applications have no value.  Inevitably, the information needed is the information you did not get around to entering.
Unfortunately, builders don't get a pass just because it is difficult to do.  For the sake of the business
access to information is still necessary, 
entries must still be made in a Daily Progress Report,
the quality of the work at building sites must still be controlled,
risks must be managed, and
questions must be answered. 
I still need some tool that will assist me in managing the tsunami of information which must be captured, categorized and contained in the process of building a project.
What I need in a Project Management application
Here is what I see as necessary in a Project Management tool:

A system that

is going to help me remember and keep track of all the tasks I need to accomplish in the construction of a project.
is sufficiently flexible to accommodate changes in the process without disintegrating into chaos.
works on any number of electronic platforms.

can easily be updated to reflect changes in codes or business environment.



I can access at any time.
can be updated from anywhere.

can be updated in real time, immediately.



does not require hours of maintenance every day.
does not represent a large initial investment in dollars.
does not require a large initial investment in time.
does not have large periodic financial costs to maintain.
any other stakeholders (designers, assistants, superintendents, subcontractors) can access and update.
does not require a steep learning curve for users.

can track multiple projects.



will capture and retain useful data in any number of formats.
provides access controls so I can determine who has access to what.

will provide a positive time management and/or organizational benefit relative to the time required to use the system.



is easy to use.

Using Asana on Your Jobsite

How to record a voice-to-text Daily Progress Report right at the jobsite with comments and photos

I have been on the search for an easy-to-use, everywhere accessible, reasonably-priced Project Management tool for a long time.
I believe I have found it.
Sample Asana page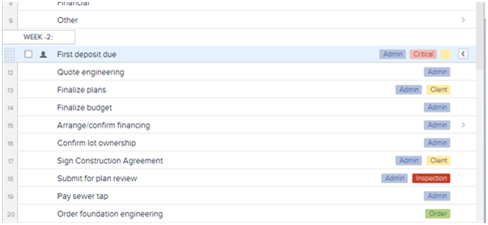 I have been using a Project Management application called ASANA for years.  This is a Project Management SaaS (Software as a Service), which means that it operates in the cloud.  Your information is not tied to a specific computer, but is available at any device that allows you to connect to the Internet.
The benefits of this type of application are many, including the following:
You can enter information on your desktop at the office and then retrieve that information on a smartphone or tablet at the job site.

You can take pictures or recordings at the job site and access the information back at the office.

The information can be viewed and supplemented by anyone to whom you have given permission and access.




You can establish teams including managers, designers, superintendents, and even clients and subcontractors, if you wish, who can be adding their input to projects and tasks on a real-time basis.



I will be working on templates to make Asana relevant to small builders, and will be making my findings available to clients and readers of this website.
This application is a glorified, and incredibly useful, To Do list.  It keeps you on track with tasks that are coming up, tasks that are late, and tasks that need to be scheduled.  It reports to you about tasks you have assigned, and whether or not they are being performed.

You sleep better when you know that all the tasks and all your people are coordinated and communicating.
That's the basis of Asana.  Click here to see their introductory video.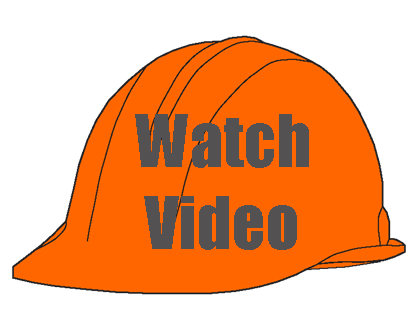 Are you serious about Project Management?
If you would like to try Asana, and I strongly recommend that you do, let's get started.  The following will get you up and running.  
Remember, the application is free to you as long as you stay under 15 team members.  You can see the pricing information on the Asana website.  For the independent builder, you should be able to control the number of contacts to minimize your costs.  Stay under 15 team members, and your monthly cost is $0.00.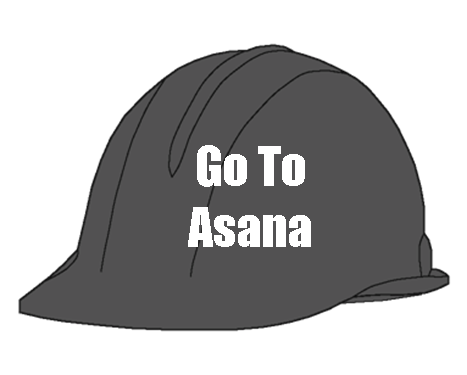 Once you have opened your account and learned the basic navigation rules, it is time to set up a Project.  To help you ramp up quickly, Builder-Resources.com offers an Asana production management package to get you up and running, and which you can easily modify to fit your needs.  We have developed three comprehensive Project Templates, each comprised of 300+ steps. 
The templates are organized for managing projects by WEEK (a 19-week build schedule), by PHASE (Excavation, Foundation, Framing, HVAC, Plumbing, etc.) and by ORGANIZATIONAL RESPONSIBILITY (Sales, Purchasing, Production, etc.).  You can use whichever best fits you business model.
These templates are set up to allow you and any member of your team to
add Daily Progress Reports about the project;
store and quickly access information about Plans and Specifications;
recall Legal and Financial documents pertinent to the project;
display Subcontractor information such as contact name, phone number, Work Orders, Inspection Reports;  
categorize tasks using color-coded Tags.
You will receive step-by-step instructions for how to import the template and add it as a project.  There are template usage instructions that you will just copy and paste into individual sections of the template, and  I've also included a free "When to Do What" template in the package.
The cost of this package is only $89.00, and it will save you hours of work and get you managing your jobs instead of setting up the application.  Yes, you can undoubtedly build the template yourself.  But why would you want to?
Builder-Resources has already done the work for you.  There is no need to re-invent that particular wheel. 
---
---