YEAR-END PLANNING CHECKLIST

---
Planning for Next Year's Business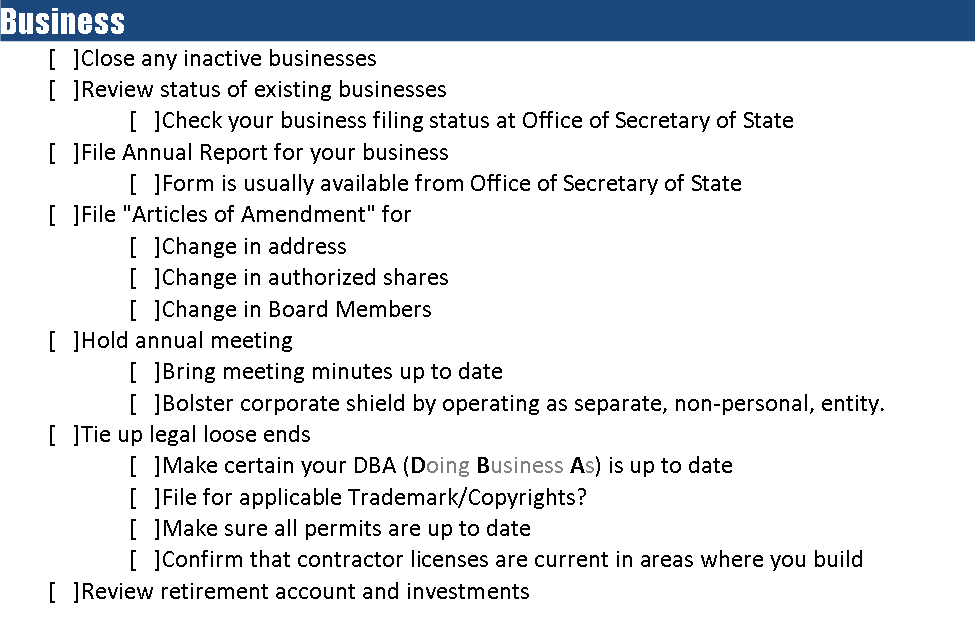 ---
First, the end of the year is a good time to establish, or re-establish, your business as an entity separate from you. The reason you created a separate entity when you started your business was to afford to you the protection of the corporate shield.
To make certain that the shield stays intact, you must operate the separate entity properly. That includes making sure that you make the necessary filings, that you provide the required information to the authorities, and that it can be easily demonstrated that the business and you are separate entities. At its simplest, that means separate bank accounts, but the checklist provides some other considerations.
If you have any corporate entities which you are not using, and you don't anticipate using them this year, close them. Inactive accounts will eventually be closed by the State anyway, but it is cleaner for you to close them if they are not needed.
Make certain that all the paperwork is current for your main operating entity. That means that the Annual Report has been filed with the State, that any significant changes in the business have been formalized through the filing of "Articles of Amendment", and that the entity is in "Good Standing" with the State. These days, it is very easy for a prospective customer to check on your corporate status with the Secretary of State, and a status of less than "Good Standing" just raises questions that shouldn't be there.
Make sure you hold your annual meeting, and make the appropriate entries in your corporate minutes. Board action regarding any significant expenditures during the year, approval of any new operating loans, important management hires and fires, and the election of the Board of Directors for next year are all important decisions which should be recorded in the minutes of the meeting.
If you have trademark or copyright issues which need to be formalized, now is the time to take care of this. Not critical in most cases, but will protect you if the need arises.
Finally, this is the time to review your retirement accounts, and their performance, with your investment adviser. Make sure that you maximize the financial planning aspects of the different accounts available to you and that you understand and agree with the types of investments in those accounts.
---