YEAR-END PLANNING CHECKLIST

---
Planning Next Year's Marketing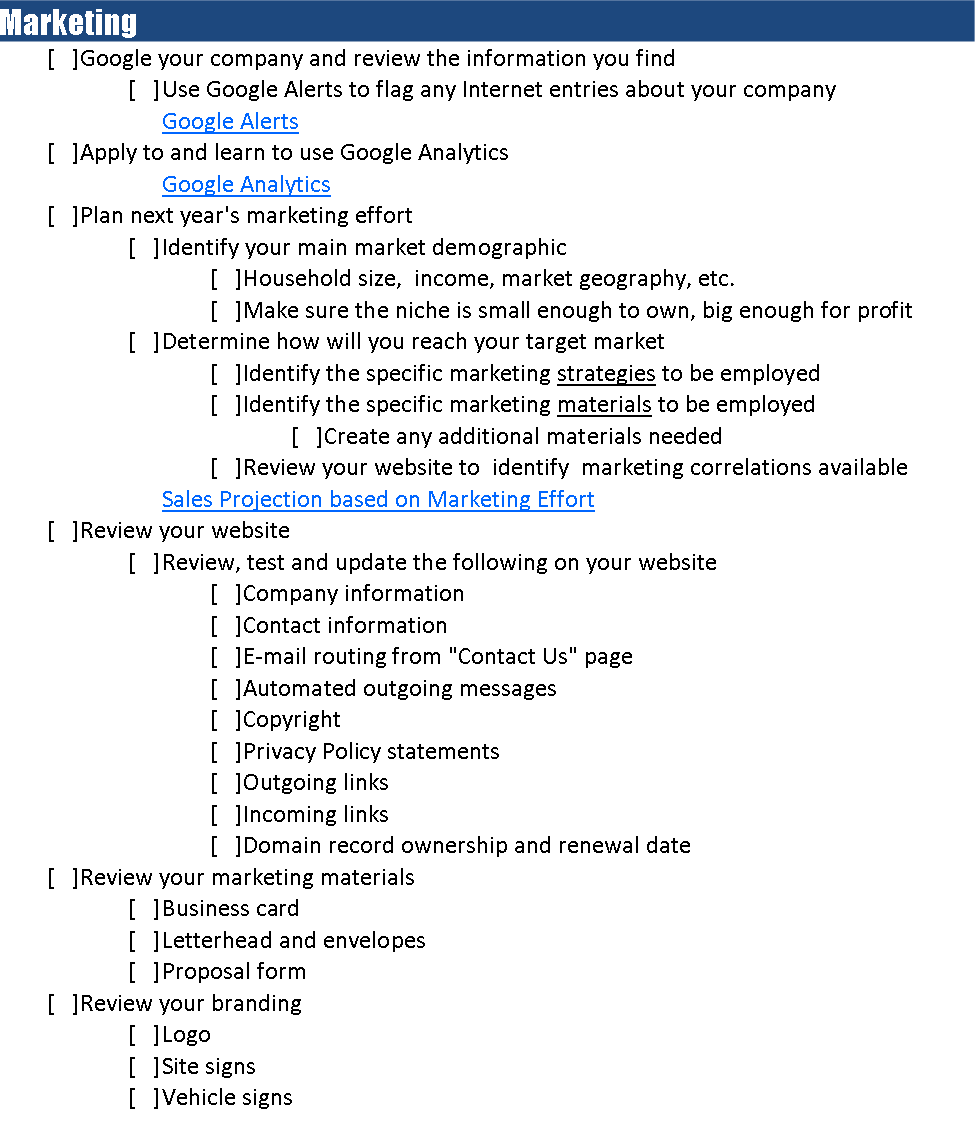 ---
KNOW YOUR MARKET POSITION - To prepare for the marketing initiatives next year, make sure that your company is not carrying a load of negative press into the coming year. I am reminded of a client who thought he was free and clear, only to check with the BBB and discover that he had 32 unhappy customers filing grievances against his company.
Google your company and see what is being said online about it. Be sure to go at least ten pages deep to pick up all the information you can. Pay special attention to any references on Better Business Bureau (BBB), "Angie's List" and any other site accepting "third-party" commentary on your business. If negative comments exist, determine if those comments are warranted, do what you can to mitigate them, and/or respond to the comments.
---
STAY UP TO DATE - Go to Google Alerts and register to be notified whenever anything relating to your company or yourself is posted.
While you are at it, go to Google Analytics and register your website there. Spend some time with the tutorials and learn at least the basics. This is a great way to look at the effectiveness of your website. You can also find suggestions for improving your website content and usefulness.
---
PLAN NEXT YEAR'S MARKETING INITIATIVES - Take a look at what you did most successfully this year.
Have you discovered a market in which you can specialize?

Are you building a reputation as the "go-to" builder for a special type of construction?
If so, what can you do to solidify and build your position in that market. If you have not found that exact niche yet, spend some time thinking about where you would like to take your company. 

In any event, spend some time identifying your main market demographic in terms of age, household size, income, and so on. This demographic will become the main target of your advertising effort. Make sure the niche you select is small enough for you to own, and large enough to provide the profitability you seek.




See this article on Market Positioning ---->
---
Once you have determined the direction you want to take your business, you may find that you will have to tweak your marketing materials to better address this market. Depending on the psychographics of your target market, you may want to adjust the shapes and/or the colors and shades used in the logo. You will want to fine-tune your marketing message so you are hitting the right hot buttons for your market.
Review the following pages on this site for help in making marketing decisions.
---
CO-ORDINATE YOUR MESSAGE - Next, go to your website and check, page by page, to make certain that the information on the pages is correct and the marketing message is appropriate.
Make notes about any changes that need to be made, either in information or content. The name of the page is shown in the window at the top of the page. If your website is managed by a third party, write down the name of the page and the changes to be made. If you are managing the website in-house, make the changes as you proceed. The Year-End Checklist provides examples of the pages to be sure to scrutinize under the "Review Your Website" section.
---
Take a look at your branding and marketing materials. If the logo needs to be updated or refreshed, now is the time to do it. You can find logo designers on-line or can ask at a local college if a graphics student is looking for a project. Have an idea of what you want, but don't restrict the creativity. You may be surprised at the results.
Make sure that your USP (Unique Selling Proposition) addresses the needs of your target market. If not, play with some ideas until you have a short (3-7 words) USP that says exactly what you need it to say.
If you are happy with your current logo, consider how you are using it. Take a fresh look at your business cards, letterhead, envelopes and proposals to make sure they reflect where you want to position your business. A change in color, even in intensity of shade, may make the difference in target market acceptance or rejection.
---